Altamarea Beach Village beach facilities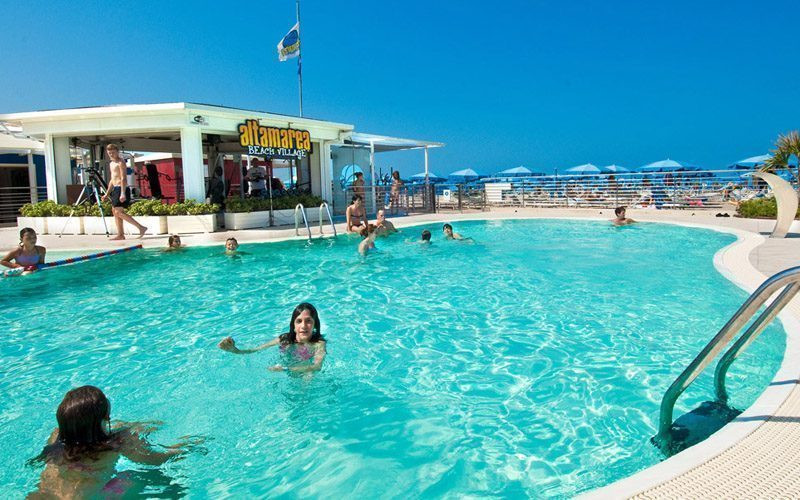 Altamarea Beach Village, the exclusive tourist village on the Adriatic coast is situated in the splendid surroundings of Cattolica and includes the best hotels and guesthouses on the coast. A beautiful beach, full of exclusive facilities, together with excellent and amusing entertainment activities and special relaxation areas.
Among our services, there are:
A large swimming pool, on the beach
Dive into the swimming pool, where the water is always blue. In the biggest swimming pool on Cattolica's Beach, fun is assured for young and old alike, at Altamarea Beach Village.
Small Jacuzzi pools - a wellness oasis
EXCLUSIVE NEW INNOVATION!
For complete relaxation immerse yourself in the Jacuzzi baths, with water sprays or else abandon yourself to the welcoming embrace of the wellness oasis or the beauty centre areas.
Beach volleyball, 5-a-side and basketball
If your holiday isn't only about relaxation, you can take part in our Beach volleyball, 5-a-side and basketball competitions.
Kids game-park
The younger ones will be looked after by caring babysitters, and the mini club activities are full of involving and fun entertainment, such as the creative workshops, fashion catwalks, treasure hunts, sand-castle competitions and many other games.
Gymnasium for adults and children
Are you a keep fit follower?
Keep yourself in shape in our large gymnasium with equipment for cardio fitness training and body strengthening.
Gazebos, equipped with games
A play area equipped for the needs of every age, completely sheltered from the sun.
Boules
Seven fully equipped play areas to participate and compete in exciting games.
Table tennis
Exciting challenges for all ages, on our table tennis tables.
See all pictures about Cattolica beach Altamarea in Foto Cattolica gallery